Randy Martin, CEO of The RMartin Group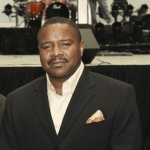 Randy began his career in Audio Visuals in 1986, working in various hotels in the Metropolitan area.  Randy's hard work and dedication over 20 years has propelled him from various positions ranging from visual aide, operations manager, and site director.  Randy successfully managed the companies' largest property, the Omni Shoreham Hotel, which under his direction obtained sales of more than two million dollars a year.  It was not long before the management was so impressed by Randy's ability to motivate and train his employees that he was also given the task of Area director.   In this position he was able to tap into his hidden resource of assisting smaller hotels audio visual departments along with their employees in the delivery of impeccable customer service.   In a five year span, Randy singlehandedly was credited with promoting more than 10 of his employees to positions of managers and directors.
In 2003, Randy decided to walk on faith and become a partner at Access Audio Visual.  In his first full year as Vice President and Director of Sales with the company, Randy supervised successful audio visual presentations in facilities of all sizes. 

Randy has taken all his experiences, client relationships , handiwork and dedication to form The RMartin Group, An Audio Visual Company with over 40 years of experience in technology and superb customer service.