Our Mission and Vision
To be the premier AV provider for meetings and events nationwide.
Grow by providing creative solutions and exceptional service that meets our customers' needs and exceeds their expectations.
Continuously improve our business to provide customers' with superior value.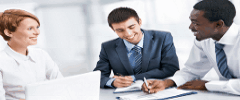 At The RMartin Group LLC – we strive to make you and your message look and sound great. If your audience cannot see and hear the message you're trying to convey – then the meeting has failed. That's why The RMartin Group provides the same dedication and professionalism to each client whether they're trying to reach the audience in a small boardroom or in a general session at a major convention center.
Our specialization and investment in the newest and cutting-edge AV technologies help us make your meetings look easy and flawless. Most importantly though, we have the best technical staff around and they are the ones who set us apart and above the rest.